howto remote connect
---
De gemakkelijkste manier ...
Je kan gebruik maken van de SSH client in windows 10 of linux mint,
en dan tik je hetvolgende commando:
$ ssh -p 6xy22 student@rohtang.gnubizz.net
 
vervolgens vraagt de server je paswoord; vraag dit aan de docent.
(xy is je studentnummer en wordt aan je gegeven bij labs, oefeningen of examens)
---
Je kan ook PUTTY onder windows gebruiken:
 
download putty: putty.org
 
FQDN: rohtang.gnubizz.net
USER: student
PASS: ask the teacher
PORT: 6xy22 (xy is uw toegekend nummer)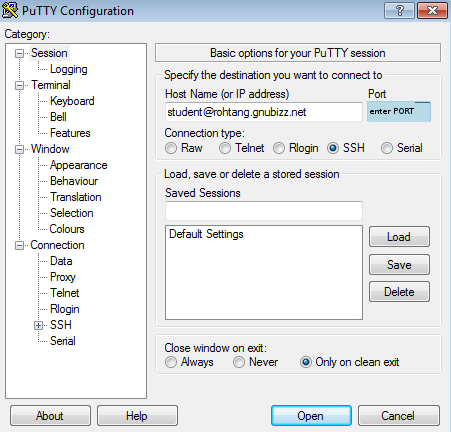 Vul username en hostname in (of indien van toepassing het ip-address) als volgt;
student@rohtang.gnubizz.net en op dezelfde lijn vult u uw Port (poort nummer) in.
 
klik daarna OPEN
 
Je krijgt nu hetvolgende scherm ...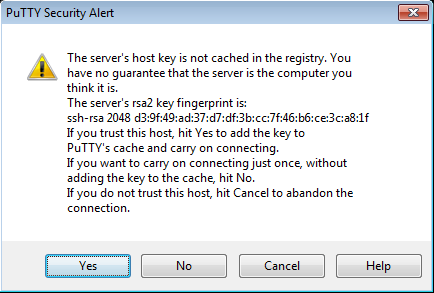 Door op YES te klikken voeg je de host key toe -- (klik YES)
 
Vul vervolgens je paswoord in ...

 
... en je bent ingelogd: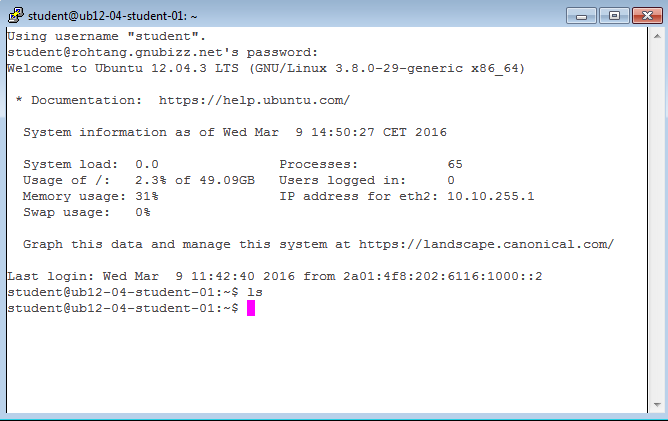 ...
Je zit nu in je eigen virtuele server.
(PS: Je kan putty verschillende malen tegelijk draaien naar dezelfde server)